IOC launches new code to tackle match manipulation
Comments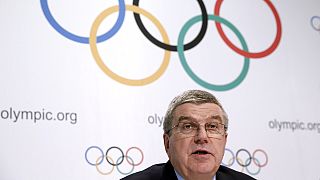 The International Olympic Committee (IOC) on Thursday launched a code designed to prevent competition manipulation in a bid to protect the integrity of the Olympics and other sports matches.
The code, set to be fully implemented at next year's Rio Olympics, aims to provide sports federations bound by the Olympic Charter with a standardised list of regulations in their continued fight to protect clean athletes.
"We must do everything we can to protect the millions of clean athletes around the world," IOC president Thomas Bach said in a statement.
"Protecting them goes hand-in-hand with ensuring the environment in which the athletes operate is safe from corrupting influences. Today's publication of the Code is an important step in fighting manipulation in sport."
The sports federations are expected to comply with the code and in some cases apply regulations more stringent than the ones laid out by the IOC.
"It is a joint effort of various key stakeholders of the Olympic Movement, particularly the International Federations, and another tangible outcome of Olympic Agenda 2020," Bach said.
The comprehensive document outlines definitions and possible violations of the code, including betting where there is a conflict of interest, corrupt conduct and failure to report or cooperate with investigations into match fixing.
The sanctions for violations range from a minimum of a warning to a maximum of a lifetime ban.
The move is the latest in a series of attempts by the IOC to reduce manipulation in sports, with the Olympic body in April creating a hotline for whistleblowers to anonymously report corruption and other suspicious activities.
The IOC is also working with the global police body Interpol to increase global awareness into competition manipulation.
In a separate development, the IOC said all measures recommended by the Agenda 2020 reforms had now been introduced, with a particular emphasis on good governance and making financial transactions more transparent.
Bach had said at the executive board meeting the scandals engulfing FIFA were damaging for all sports organisations, and as a result all funds distributed to international federations by the IOC would be audited from 2016 to improve credibility.