Death toll mounts as Ankara continues its PKK clampdown in Kurdish towns
Comments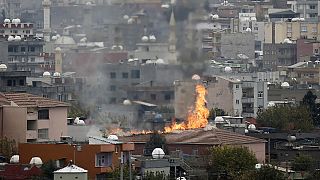 The Turkish authorities claim 24 people described as "terrorists" have been killed in a big clean-up operation ongoing in a part of Diyabakir and two border towns, Cizre and Silopi, in the Kurdish south-east of the country.
A curfew has been in place since the 14th December and civilians have been ordered to leave the areas to give security forces a free hand.
"I find these policies erroneous. The pressure on Kurdish people has become unacceptable. What is it that we cannot share? Enough is enough. We want peace," said one man who stayed behind in Cizre.
For the last two months activists have thrown up barricades to prevent security forces entering these mainly Kurdish areas, and declared them self-governing. In some cases the barricades have been booby-trapped.
The media says the government intends a total cleanup of PKK fighters in the areas, and to reassert its authority. The PKK says it is defending the Kurds and accuses Ankara of leaving them at the mercy of ISIL terrorists striking from in Syria.