Greece approves latest reform bill in exchange for 1 bn euros
Comments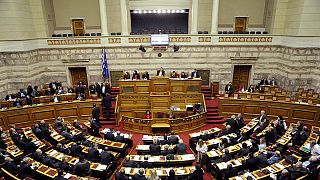 Greece's leftist-led government has survived another parliamentary vote on a reform bill demanded by the country's international lenders. In return Greece gets 1 billion euros to pay off debts.
The bill makes changes to the public sector wage grid and opens the market for banks to sell off bad loans.
Greece's Deputy Finance Minister George Chouliarakis addressed the chamber.
"This bill serves as a solution for non-performing loans and, as a consequence, also helps liquidity and boosts the economy. It does this while – and this is its aim – it protects the households and businesses that are most vulnerable."
Greece Bailout Reforms Advance in Parliament https://t.co/rgD5pEdWkC

— 英語学習 (@study_english_5) December 15, 2015
As usual there was heated debate in the chamber where the government has a majority of only three. All of the coalition's 153 deputies voted in favour of the bill.
The President of the opposition PASOK party Fofi Gennimata, was at her scathing best when she made her statement:
"And now what are you asking? That we become your accomplices? That we vote for what you used to be against ? Or do you want us to forgive you over the awful way of thinking that led the country in this point?
After five years of austerity including 12 pension cuts, the government plans to raise social security contributions instead of slashing main pensions again. But the lenders have signalled reluctance, saying it could further damage employment.
The reform must be adopted in January prior to the first bailout review, which Tsipras wants to conclude swiftly to open the way for talks on debt relief, which he urgently seeks to convince Greeks that their sacrifices are bearing fruit.
Euro zone institutions representing the creditors and the International Monetary Fund are expected to issue a compliance report on Wednesday.