British astronaut Tim Peake is on his way to ISS
Comments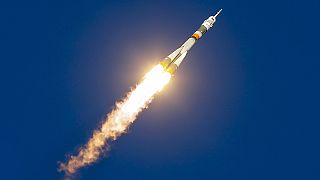 A Russian Soyuz rocket carrying a three-man international crew, including Britain's first ESA (European Space Agency) astronaut, Tim Peake, blasted off on Tuesday from the Baikonur Cosmodrome in Kazakhstan.
The rocket carrying the Soyuz TMA-19M spaceship lifted off at 17h03 local time (1203 CET), beginning its six-hour journey to the International Space Station, and successfully reached its designated orbit about 9 minutes later.
Major Peake has 17 years' service as an armed forces pilot, with 3,000 flying hours.
The 43-year-old follows Briton Helen Sharman, who was the first Briton to go into space in 1991 on Project Juno, a co-operative project between a number of British companies and the Soviet government.
Sharman spent a week at the Russian Mir space station.
The most experienced British-born astronaut is NASA's Michael Foale.
Tim Peake is the first British ESA astronaut.
Watch:Tim Peake's voyage to the International Space Station
First contact in space with astro_timpeake</a>, <a href="https://twitter.com/astro_tim">astro_tim and Yuri. Commander Yuri confirms engine firing went as planned. #Principia

—

ESA

Operations (@esaoperations) December 15, 2015
Last tweet before launch – GO for flight! Thanks for all the good luck messages – phenomenal support! #Principiapic.twitter.com/8jbxejHEEe

— Tim Peake (@astro_timpeake) December 15, 2015
The launch as it happened