Protesters call for end to British airstrikes in Syria
Comments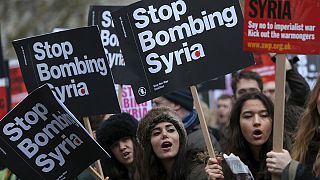 Protesters have taken to the streets of London, to call on the government to end its airstrikes in Syria.
They marched through the centre of the city to Downing Street.
President Francois Hollande had urged the British to join the French in carrying out airstrikes against ISIL in Syria. He made the appeal two weeks after the attacks in Paris, which left 130 people dead.
British politicians approved the bombing of targets in Syria on 2 December. Hours after that approval, the Royal Air Force struck oil fields that the British government said are being used to fund attacks on the West.