Paris climate deal welcomed, but critics warn of challenges ahead
Comments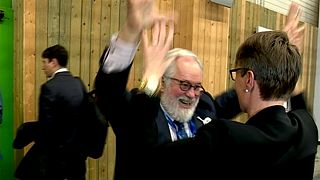 The reaction overall to the Paris climate deal has been positive, in particular from the summit delegates. They claim it heralds the beginning of a historic transformation of the world's fossil fuel driven economy.
However, there have been some reservations over the timescales of targets set out in the landmark agreement.
One of the main questions being asked has been, has the first truly global climate deal gone far enough?
"I have mixed feelings," explained the head of Greenpeace France, Jean-François Julliard.This agreement is a good starting point. There could have been no agreement, a total disaster. However, the long-term objectives are not clear enough. The aim is to be below 2 degrees and reach 1.5 degrees Celsius. It fails to deal with the issue of climate change. We haven't saved the planet or humanity of climate change. It has set a new starting point with a new goal."
The European Union's climate and energy commissioner, Miguel Arias Cañete, was satisfied with the accord but reminded delegates that the deal was the beginning of the real work:
"I have all the elements I need. It's an agreement fit for purpose. Always things can be perfect, but perfection is very difficult to reach. But this agreement is fit for purpose and it is a big step from Kyoto."
The final agreement to cut emissions starting in 2020 and signed by almost 200 countries is set to cause a shift in the allocation of resources.
According to one report from Barclays bank, the deal marks the beginning of huge investment in technology and renewable energy that could spark a new era in global economic growth.