Paris climate deal is 'best chance' to save planet
Comments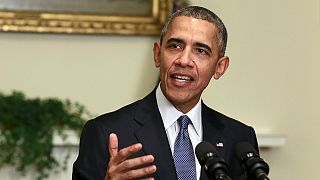 The best chance to save our planet, a lifeline for future generations. There has been a flurry of global reaction to the landmark climate deal clinched in Paris.
US President Barack Obama says it shows what is possible "when the world stands as one."
"Make no mistake, the Paris agreement establishes the enduring framework the world needs to solve the climate crisis," he said.
"This agreement represents the best chance we've had to save the one planet that we've got."
China also welcomes the accord, but says there is still work to do.
"It is true that the agreement is not perfect and there are some areas that are in need of improvement," said Xie Zhenhua, China's Special Envoy on Climate Change.
"But this does not prevent us from taking historic steps forward."
India's Environment Minister, Prakash Javadekar, added: "While give and take is normal in negotiations, we're of the opinion that the agreement could have been more ambitious."
The Maldives described the climate accord as an "historic agreement."
"Though we must remember that history will judge us not by what we did today, but by what we do from this day forward," commented Thoriq Ibrahim, Minister of Environment and Energy.
"For that is how the Paris agreement will be measured for future generations."
Euronews reporter Grégoire Lory, who has been covering the COP21 conference, said: "Because it's a compromise, certain ambitions were lowered or put aside, but nobody is hiding their joy after the adoption of the first universal agreement on climate."