Moscow: activists and liberal party leader arrested during Constitution Day protests
Comments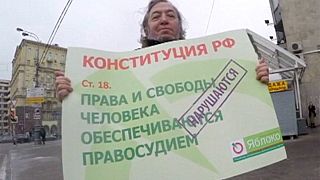 Russian police have arrested dozens of opposition activists and the leader of the liberal Yabloko party during demonstrations in Moscow.
Those taking part said it was not an unsanctioned gathering, rather they were holding individual protests to mark Constitution Day.
Yabloko leader Sergei Mitrokhin said the constitutional rights of the Russian public were being violated, moments before he was detained.
Russia's Constitution was adopted by Boris Yeltsin, the first president of the Russian Federation in 1993 after the fall of the Soviet Union.