Trump defends Muslim entry ban as "the right thing to do"
Comments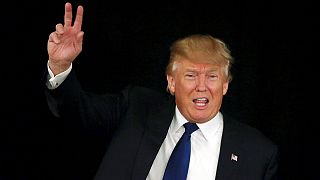 The US Republican presidential candidate Donald Trump has again defended his proposal to ban Muslims from entering America.
In a speech to a New England police officers' union, the New York billionaire businessman, who's the frontrunner for his party's nomination, insisted time will prove he is right about the issue.
"When I talked about what I said the other day, all of a sudden I'm watching the shows this morning, and I'm watching the shows tonight, 'Well you know Trump has a point. The visa system is not working'. This woman came in on a marriage visa and she was totally radicalized, and she came in…We just can't afford anymore to be so politically correct," he said.
The New England Police Benevolent Association's# executive board voted on Thursday to support Trump after he promised the death penalty for police killers.
But as Trump was receiving the endorsement, hundreds of people demonstrated outside the event against the man they believe really represents un-American views.
Trump's statement, which had drawn widespread criticism at home and abroad, came in response to the deadly shootings in San Bernadino, California, last week, in which a married Muslim couple, described as "radicalized" by US authorities, killed 14 people.