The Wave Muscat back in contention in Sydney
Comments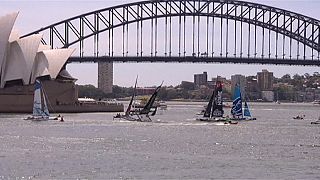 The Wave, Muscat produced a superb display to grab a share of the lead after the second day of racing on Sydney Harbour as the 2015 global tour is drawing to a close.
They were later joined by SAP Extreme Sailing Team while Lino Sonego Team Italia were caught off-guard by a big gust of wind coming off the Sydney Opera House, resulting in a dramatic capsize.
With no injuries to the crew, the safety boat was immediately on site to provide assistance for the team that includes Italians Enrico Zennaro, Nevio Sabadin and Stefano Rizzi as well as Olympic sailor Pierre Pennec.
A very grainy photo from the comms desk but @LinoSonegoTeam capsize in race 10. No casualties. #exsspic.twitter.com/LsVDxLQLbL

— Extreme Sailing (@extremesailing) December 11, 2015