Putin orders tough action on Syria threats
Comments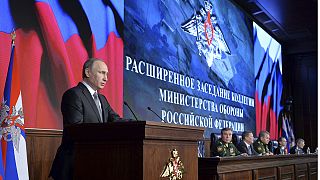 Talking tough at an annual meeting of Russia's Defence Ministry. The message from President Vladimir Putin was clear – to eliminate any threats to his military in Syria.
He also revealed Russia is engaged in offensive actions in joint operations with regular Syrian forces against Islamist militants in Homs, Hama, Aleppo and Raqqa.
"I am ordering you to act tough. Any targets posing a threat to Russian divisions or Russian military targets on land, have to be annihilated immediately. In the mean time, cooperation needs to be developed with all countries that are genuinely interested in the annihilation of the terrorists," he said.
The president did not elaborate on the specific threats. His speech comes with Russia locked in a row with Turkey.
On Thursday the country's Prime Minister Ahmet Davutoglu accused Russia of attempting "ethnic cleansing" with its air strikes in northern Syria, targeting Turkmen and Sunni communities in and around the Latakia region.
The Russian Foreign Ministry rejected the claims.