Turkey accuses Russia of "ethnic cleansing" in Syria
Comments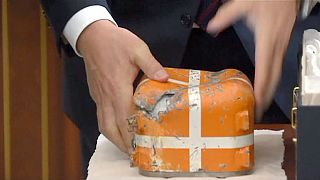 The noise of sabres being rattled continues to dominate Russo-Turkish relations. In Moscow President Vladimir Putin has received the flight recorder from the Sukhoi downed by the Turks, and is inviting British experts to examine its data. He is certain it will confirm his plane was not in Turkish airspace when attacked, and appears confident the data will support Russia's claims.
"Of course, we need to know where exactly the jet was when it was shot down, but it won't change our attitude towards what was done by the Turkish authorities. We treated Turkey not just as a friend but as an ally in the fight against terror. No one was expecting this vile treacherous stab in the back," said Putin.
In Turkey both President Recep Tayyip Erdogan and his Prime Minister Ahmet Davutoglu accused the Russians of ethnic cleansing in Syria, although in later comments Davutoglu suggested that to avoid any future unfortunate incidents it would be a good idea if both sides talked. There has been no sign of a desire to talk on Moscow's part since relations took a nosedive. The Turks claim they have tried to contact Moscow in vain.