Volkswagen blames 'small group' of employees for 'dieselgate' scandal
Comments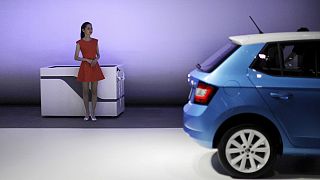 Volkswagen says a "chain of errors" led to the emissions cheating scandal rather than a one-off mistake, adding that it struggled with deadlines to meet strict conditions on limits in the US when it launched a diesel promotion campaign ten years ago.
The carmaker says it has agreed steps to improve the oversight of engine-software development.
Company executives told a news conference at VW's headquarters in Wolfsburg that investigations were going well into the biggest crisis in the carmaker's history.
"As serious as the current situation is, this company will not break because of it. Rather, we have a clear mission: we will create a new, better and stronger Volkswagen," said Chief Executive Matthias Müller.
Volkswagen making good progress with its investigation, technical solutions, and Group realignment #VWGrouphttps://t.co/Xb64MhLxhi

— Volkswagen Group (@vwgroup_en) December 10, 2015
The company believes only a small group of employees was responsible for cheating US tests and that board members were not involved.
The chairman said it could take months to identify the individuals who were to blame. It's suspended nine managers.
"I'm not saying that all of these people are under suspicion, what it means is that on their computers, SIM cards and or USB sticks, there might be information that could be important. We still believe that only a small number of employees was actually actively involved in the manipulation," Hans Dieter Pötsch told the news conference.
VW launched internal and external investigations after admitting cheating US tests.
It's planning to bring in a new corporate structure to be in place by early 2017, but doesn't envisage selling off any units to fund costs linked to the scandal.
Far from experiencing a slump in sales, the carmaker says orders so far this year are up by 3.5 percent.
On Wednesday Volkswagen said separate investigations into irregularities concerning carbon dioxide emissions and fuel consumption had revealed that far fewer vehicles were affected than had previously been admitted.
High media interesst at press conference on status of investigations at #VWGrouppic.twitter.com/7rMz4DM0y1

— Volkswagen Group (@vwgroup_en) December 10, 2015
Breaking: #Volkswagen confirms #dieselgate recalls will have "negligible effect": https://t.co/ExR1Ll7U8Dpic.twitter.com/pMWSCj9vrV

— Auto Express (@AutoExpress) December 10, 2015