Protests greet Chicago Mayor's apology over police shooting
Comments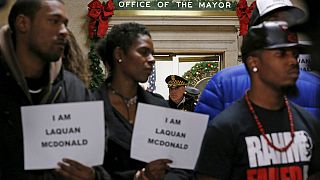 Chicago Mayor Rahm Emanuel has apologised for his handling of a fatal police shooting of a black teenager but his emotional speech was met with protests from some calling for his resignation.
His pledges of reform follow the release of a police dashboard video showing a white officer shooting a 17 year-old 16 times.
The crowd of protesters outside City Hall chanted "16 shots and a cover-up" and also called for the resignation of Cook County State's Attorney, Anita Alvarez, who has been criticised for taking more than a year to charge the officer responsible for the shooting.
High profile killings of black men by mostly white police officers in US cities have prompted a national debate and protests about the use of excessive force by police.