'Possible security threat' closes US consulate in Istanbul, Turkey
Comments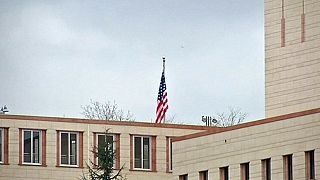 The US Consulate in the Turkish city of Istanbul has cancelled consular services for Wednesday (December 9) because of "information about a possible security threat" against the mission.
A US state department spokesman told reporters that limited, urgent services would be provided.
Other diplomatic missions in the cities of Ankara, Izmir and Adana were operating normally.
No specific details were revealed about the possible threat.
The cancellation of services comes four months after the same consulate came under attack by the Revolutionary People's Liberation Army-Front (DHKP-C) a Marxist organisation listed as a terrorist organisation by the US and Turkey.
#Istanbul#Now Seems its a very serious threat: Noone is being allowed to the street of American Consulate. https://t.co/uKNzUc4eJo

— Kgthetweet (@Kgthetweet) December 9, 2015