Albanian opposition protesters accuse government of corruption
Comments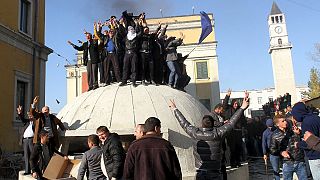 In Albania thousands of Albanian opposition supporters have scuffled with police during an anti-government protest in the capital Tirana.They threw eggs and cobblestones at the office of Prime Minister Edi Rama, accusing the government of rampant corruption.
Using the 25th anniversary if an historic student protest against communism, they denounced today's administration saying it was driving Albanians to seek asylum in western Europe.
Mr Rama's Socialists – who came to power in 2013 – deny this.
'Desperate ugliness & miserable vandalism': Anti-govt protesters rage in Albanian capital (VIDEOS): Thousands… https://t.co/XC59fXzamb

— Anonymous News (@Anon_Eu) December 8, 2015