Brent crude oil dips below $40 a barrel for first time since 2009
Comments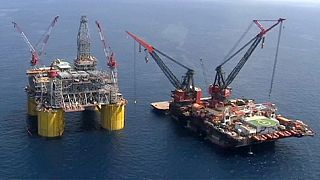 US crude fell below $37 (34 euros) a barrel on Tuesday, and Brent below $40 (36.7 euros) for the first time since early 2009.
Oil prices then steadied but remained close to the seven-year low.
Wall Street was dragged down although shares later recovered.
The market remains weak due to global oversupply compounded by OPEC's decision to keep output high.
"OPEC no longer controls the price of oil, it's not even responsible for half of the world's output of oil. And despite frantic efforts to try and come to some agreement on quota cutbacks ahead of the Vienna meeting it all came to nothing. And, at the moment, it seems to me (that) the path of least resistance – until we get some meaningful reduction in production and capacity – is to the downside," said Jeremy Batstone-Carr, Director of private client research at Charles Stanley.
WTI crude breaks $37 a barrel
https://t.co/2nvVR7bAvLpic.twitter.com/YTkgZNCrr3

— Bloomberg Markets (@markets) December 8, 2015
There's talk of oil prices plunging further: Goldman Sachs has said they could go as low as $20 (18.35 euros) a barrel at some point.
Former boss of BP John Browne also said on Bloomberg TV that nothing was impossible.
Further falls would spell bad news for companies and countries relying on revenues – but what about consumers?
"If the weakness in the crude price is passed on at the pumps then it will boost income at an important time of year for consumers and of course the retail sector generally. But of course the price is not always passed on," said Jeremy Batstone-Carr.
OPEC'S failure to set a limit on output means the global surplus is set to persist, putting pressure on higher-cost rivals such as US shale producers.
Iran's anticipated entry into the market in a post-sanctions era is likely to bring a further rise in production.
Russia has said it will make more spending cuts if the oil price continues to fall.
Brent at $40 Leaves Oil Forecasters Poised to Play Catchup Again https://t.co/insu6qt8eO via business</a> <a href="https://t.co/7V4XufwMvb">pic.twitter.com/7V4XufwMvb</a></p>&mdash; Stuart Wallace (StuartLWallace) December 8, 2015