Britain organises emergency response to flooding in northern England
Comments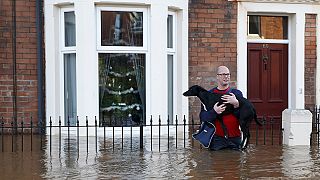 Some of the worst flooding in decades to hit northern England has triggered a meeting of the Cobra special contingencies committee to co-ordinate an emergency response. prime Minister David Cameron will chair the meeting later today.(Monday Dec 7)
Over the weekend storm 'Desmond' battered the region leaving hundreds of homes inundated and around 55,000 others without power..
Emergency services aided by British soldiers have been forced to evacuate residents in worst hit Cumbria.
It's often the elderly who are most at risk. Carlisle resident John Donaldson had to be rescued from his home as the flood water came in.
"Sitting in the house, I saw the water come up through the tiles. It was quite frightening," he said.
A spokesperson for one of the local fire brigades said a main worry is that the flood water is contaminated, "It's got petrol in it, sewage and all sorts of rubbish!"
Hey David_Cameron</a>, you&#39;ve seen these <a href="https://twitter.com/hashtag/CumbriaFloods?src=hash">#CumbriaFloods</a> photos, right? Just checking. Help needed... now <a href="https://twitter.com/hashtag/Priorities?src=hash">#Priorities</a> <a href="https://t.co/HWyHcOIYny">pic.twitter.com/HWyHcOIYny</a></p>&mdash; Lee Procter (theleeprocter) December 6, 2015
Provisional figures suggest more than 340mm of rain fell in 24 hours in the Lake District. The current record is 316.4mm of rain over the same time period at Seathwaite, Cumbria, in 2009.
Britain has suffered several heavy floods in recent years. In 2014 thousands of acres of farmland in the south of the country were submerged for weeks and the northwest was badly flooded twice in the last ten years.
Scotland has also been badly hit with about 40 flood warnings and alerts still in place, and some main roads are closed due to landslides and flooding.