No respite for aid workers as refugees continue to flood into Europe
Comments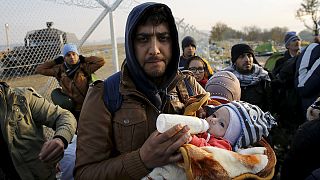 An indication of just how desperate some people are to get to Europe is that it is now December, when a sea crossing in an open boat is extremely dangerous, and yet some 4,600 have arrived in southern Italy in the past four days. The UNHCR says the current arrival rate of refugees in Europe is still running at some 8000 per day.
Most were rescued by the Italian navy and coastguards, or vessels from other navies assisting. Just over 900 landed on Sunday morning in Reggio Calabria, picked up by Norwegian coastguards.
With Europe tightening asylum qualifications to only those nations where there is open warfare, those whose applications fail will be classed as economic migrants, not refugees. In Greece on the flashpoint border with the former Yugoslav republic of Macedonia people from Syria, Iraq, and Afghanistan are being bussed away after there were fears of violence between them and migrants who are stranded because their home countries are merely poor, not war-torn.
Further north in Germany the city of Muelheim is trying to bring the newly-arrived some seasonal cheer. Local people responded to a gifts appeal with enthusiasm, and now one charity is giving out 1000 gift boxes.