'Holy Grail' of shipwrecks found off Colombian coast
Comments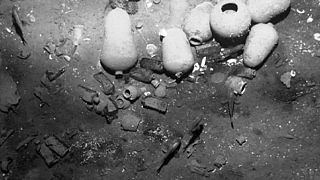 Colombia claims to have discovered what's been described as the 'holy grail' of shipwrecks of the coast of Cartagena.
The San Jose is documented has having been carrying one of the richest cargoes of treasure ever to have been lost at sea
It was sunk by a British warship in 1708 on its way from South America to Spain, ruled by King Philip V at the time. 600 lives were lost.
The treasure that went down with it is estimated to be worth between around three-and-a-half to fifteen-and-a-half billion euros.
"It constitutes one of the biggest – if not the biggest, as some say, discoveries of sunken treasure in the history of mankind, "
Colombia's President Juan Manuel Santos told a press conference.
Its not exactly clear who is entitled to claim the treasure because of a long-running legal row.
A US salvage company SSA claims it located the area where the ship sank back in 1981 but an American court ruled in 2011 that the San Jose is the property of the Colombian government.
President Santos said his country would build a museum in Cartagena to display the treasure.