German military action abroad not taken lightly
Comments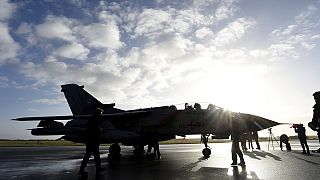 The Bundeswehr German armed forces' backseat role in international conflicts may become increasingly outmoded.
The army of today's Germany was only created in 1955, and was immediately integrated into NATO. Its mission was clearly defined from the outset: to defend Germany and its allies, and serve peace.
The Bundeswehr was forged out of fear of a Communist Soviet invasion, turning its back on associations with the Nazi defeat in World War Two.
So it was until the end of the Cold War.
The Federal Republic, as western Germany was known from 1949-1990, formed a vanguard of capitalist, democratic Western Europe. Its capital, Bonn, was devoted to political realignment with the West.
With reunification, the German Democratic Republic joining the Federal Republic, the hard-won pacifist tradition endured.
The people, like they did this week, time and again demonstrated against their country intervening militarily in any other. Parliamentary permission had to reckon with negative public opinion.
The Bundeswehr first went abroad in Somalia in 1993, with the UN. A Constitutional Court in 1994 enlarged "defence" to include crisis reaction and conflict prevention to guard Germany's security anywhere in the world.
The Balkans were a watershed. German aviation took part in NATO operations in Bosnia and Kosovo in the 1990s.
The Germans became a combat force in Afghanistan war zones, the third-largest contributor to the US-led coalition, up to around 4,000 troops, reduced by some three quarters last year.
Some 3,100 personnel are currently serving outside Germany.
Reluctance to engage reasserted itself in 2011 when Germany abstained from the UN Security Council vote—along with Russia and China— in which the US, France, and Britain sought to authorize a no-fly zone in Libya.
Last year, Germany took a cautious step toward joining the war against ISIL, providing weapons and training for Kurdish Peshmergas fighting the jihadists. The latest mission backing allied action in Syria will involve up to 1,200 military personnel.