16 FIFA bosses arrested in ongoing corruption probe
Comments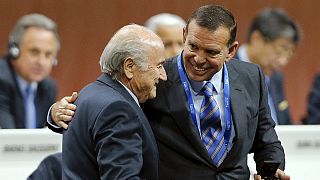 Football bosses from across South and Central America were among 16 people charged by US prosecutors on Thursday with multi-million dollar bribery
schemes for marketing and broadcast rights to tournaments and matches.
The current and former chiefs of the Brazil Football Confederation were among those charged.
The US attorney general Loretta Lynch told reporters that corruption had become deeply ingrained in the business of football.
"Not content to hijack the world's most popular sport for decades of ill-gotten gains, these defendants, as alleged, sought to institutionslise their corruption to ensure that it lived on. Not for the good of the game, but for their own personal aggrandisement and gain.
"The betrayal of trust set forth here is truly outrageous. The scale of corruption alleged herein is unconscionable.
"And the message from this announcement should be clear to every culpable individual who remains in the shadows, hoping to evade this ongoing investigation: you will not wait us out; and you will not escape our focus."
The raid on the Baur au Lac hotel in Zurich echoed arrests at the same place in May that plunged FIFA into crisis. The avalanche of corruption allegations prompted FIFA president Sepp Blatter to say he'd resign, just days after being re-elected to a fifth term.