Turkey says ISIL oil trade accusations are old-style Soviet propaganda
Comments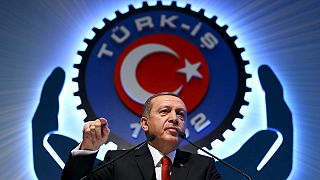 Turkey has again denied that it is profiting from the oil trade with ISIL, claiming that the Russian accusations are reminiscent of old-style Soviet propaganda.
In the Turkish capital Ankara President Erdogan repeated his call for Vladimir Putin to resign should the accusations prove to be lies.
And before setting of on a trip to Azerbaijan the the Turkish Prime Minister, Ahmet Davutoglu, said Russia is employing old Iron Curtain tactics.
"During the Cold War there was a Soviet propaganda machine. It would generate a new lie every day that they believed themselves and then would expect the world to believe. They were referred to as Pravda lies. One-by-one the Soviet characteristics we thought the Russians had forgotten over the past 20, 25 years since the Cold War, are re-emerging."
Meanwhile on the sidelines of a European security conference in the Serbian capital Belgrade, the Turkish Foreign Minister Mevlut Cavasoglu held a meeting with his Russian counterpart Sergei Lavrov in further efforts to diffuse the tension.