The US military has opened all combat roles to women
Comments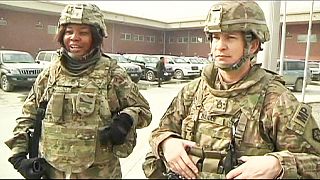 It has been announced that all combat roles in the US Army are to be opened to women.
It means females will be eligible for around 220 thousand positions.
Secretary of Defense Carter to open all combat jobs to women – https://t.co/Qbz5H8e4qepic.twitter.com/TstOEDRdc1

— The Washington Times (@WashTimes) 3 Décembre 2015
BREAKINGNEWS: Military to open all combat jobs to women https://t.co/Ir6BucWfAu

— ClaudiaChan.com (@claudiachan) 3 Décembre 2015
US Defence Secretary Ash Carter says the historic move means they will be able to drive tanks, fire mortars and lead infantry soldiers into combat.
"To succeed in our mission, our national defence, we cannot afford to cut ourselves off from half of the country's talents and skills. We have to take full advantage of every individual who can meet our standards." Mr Carter told reporters at a briefing.
Making the case for exemption
The ban was initially lifted in 2013, but the US Marine Corps was given until 2016 to make the case for specific roles it believed should be exempt.
SecDef Carter confident concerns raised by Gen. Dunford, Marine Corps "could be addressed successfully in implementation" #voaalert

— Jeff Seldin (@jseldin) 3 Décembre 2015
Commentators see Carter's decision as a rejection of that argument.
The armed services in the United States now have 30 days to submit their plans for adapting to welcoming women fully into their ranks.
Making news around the world
News of the decision is being widely reported.
L'US Army va ouvrir aux femmes tous ses postes de combat > https://t.co/9lNdZFeMxEpic.twitter.com/aiI8ToKJ9P

— L'Obs Live (@lobs_live) 3 Décembre 2015
75 years after the Red Army paved the way, US opens all combat jobs to women
https://t.co/oF6mQHkS57

— Julian Pecquet (@J_Pecquet) 3 Décembre 2015
US military to open all combat jobs to women – officials: US defence secretary Ash Carter will order the milit… https://t.co/AZPJgabpRB

— Sunday Independent (@TheSundayIndo) 3 Décembre 2015