Paris attacks: further arrests and questions
Comments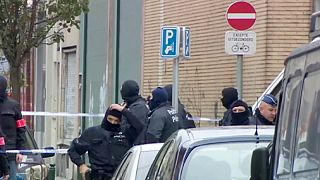 Police in Belgium have made two further arrests in connection with last month's attacks in Paris.
A 28-year-old Belgian man was detained at an address in the neighbourhood of Molenbeek in Brussels.
A 20-year-old French national was detained at Brussels airport as he was boarding a plane bound for Morocco.
Both faces charges relating to the Paris attacks and have been remanded in custody for a month.
Belgian police arrest two new terror suspects https://t.co/Mk0120rlmK#UFO4UBlogEurope#Belgium#Molenbeek#Brussels

— UFO4U@NEWS (@UFO4U) 3 Décembre 2015
A Hungarian connection?
The Hungarian government says one of the group passed through Budapest.
Hungary: Paris fugitive recruited men amid Budapest migrants: Salah Abdeslam, a fugitive suspected in t… https://t.co/Wg4ySfVioH#Paris

— Paris Attacks (@parisattacks) 3 Décembre 2015
ABC News: Hungary: Paris Fugitive Recruited Men Amid Budapest Migrants https://t.co/08CzKCBwzd

— UK World News (@ukworldnews) 3 Décembre 2015
Without naming him or saying when he was in the city, a government spokesperson said the man was at the Keleti Station. He got a group of migrants together and left the country with them.
Hungary and Salah Abdeslam
Paris attacks suspect Salah Abdeslam entered Austria in September https://t.co/sU6DW4xlan

— rez (@RezRezart) 23 Novembre 2015
French judicial sources said on Wednesday that the suspected eighth Paris attacker Salah Abdeslam had gone to Hungary in September to pick up two men that investigators think could have been two members of the team involved in the attacks.
The source said Abdeslam was stopped in a car rented in Belgium by police on the Austrian border before entering Hungary.