FIFA ExCo committee approves reform package
Comments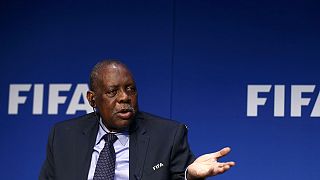 FIFA's executive committee on Thursday unanimously approved a set of proposals to pave the way for significant change to the governance of World football's scandal-hit governing body.
The reforms were announced at a press conference headed by a host of interim and acting officials due to a year of high-profile suspensions.
The reform committee was chaired by Swiss Lawyer Francois Carrad, who said any meaningful change must come from within FIFA.
"If we want to achieve reform, it must also be carried out from within, and not only from without. When I accepted the task, I wasn't sure at all that this would happen. We are far from finished, far,'' said 77-year old Carrard, the former International Olympic Committee Director General who won praise for overhauling a graft-ridden IOC more than a decade ago.
He added: ''As I said, this is only the beginning of a new era, a new process. But I think it's a milestone, I think it's a very important step today."
Among the main reforms approved by the Executive committee was a 12-year maximum stint in office for the President – three terms of four years, as well as strict integrity checks for all members of FIFA's standing committees, conducted by an independent review panel.
The approved proposal package must now be voted on by FIFA's 209 member associations at a congress on 26 February in Zurich.
That's the same day a new president will be voted in to replace incumbant Sepp Blatter who is serving a 90 day suspension amid a corruption investigation along with his once-likely success Uefa chief Michel Platini.
The main reforms to be passed on to the Congress are:
Term limits: maximum term limits of three terms of four years for the FIFA President as well as all members of the FIFA Council (see below), the Audit and Compliance Committee and the judicial bodies
Separation of political and management functions: clear separation of "political" and management functions. The FIFA Council (replacing the FIFA Executive Committee) will be responsible for setting the organisation's overall strategic direction, while the general secretariat will oversee the operational and commercial actions required to effectively execute that strategy.
The members of the Council will be elected by the member associations of the respective region under FIFA's electoral regulations, with a FIFA Review Committee to conduct comprehensive and enhanced integrity checks
Concrete steps to increase the role of women in the governance of football with a minimum of one female representative elected as a Council member per confederation
Diversity: promotion of women as an explicit statutory objective of FIFA to create a more diverse decision-making environment and culture
Independent committee members: key financial decisions to be made by the Finance, Development and Governance Committees, which will have a minimum number of independent members and whose activities will be audited by the fully independent Audit and Compliance Committee
Enhanced committee efficiency: reduction of standing committees from 26 to nine, with increased participation of the football community, which will provide efficiency while ensuring that all member associations are involved in a more meaningful and effective way
Integrity checks: compulsory and comprehensive integrity checks for all members of FIFA's standing committees, conducted by an independent FIFA review committee
Greater transparency and inclusion through broader stakeholder representation: creation of a dedicated Football Stakeholders Committee to include members representing key stakeholders in the game, such as players, clubs and leagues.