Syria's Assad says Russian support has tipped balance on the ground
Comments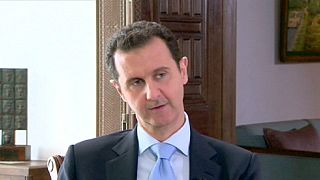 Syria's President has praised Russia's role in his country's conflict.
In an interview aired on Czech Television, Bashar al-Assad said Turkey's downing of a Russian warplane revealed Ankara's frustration with developments on the ground.
"I think it [the plane incident] has shown the real intention of [Turkish President Tayyip] Erdogan, who, let's say, lost his nerve just because the Russian intervention has changed the balance on the ground." he said.
"He did it but I don't think it's going to change any balance. The war against terrorism is continuing. The Russian support and participation is going to be stronger, it is stronger anyway and I think there is no way back," added Assad.
The Syrian government says its agreed a deal for opposition "gunmen" to leave the last insurgent-held area of Homs; progress it claims to have made because of Russian air strikes.