NATO offers membership to Montenegro
Comments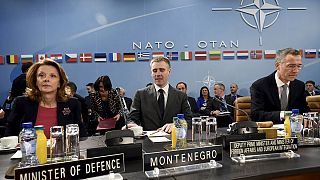 NATO has asked the former Yugoslav republic of Montenegro to become a member.
The invitation came at a meeting of alliance foreign ministers in Brussels.
It marks NATO's first expansion into ex-Communist eastern Europe since Montenegro's neighbours Albania and Croatia joined in 2009.
Jens Stoltenberg, NATO Secretary General, described the move as historic.
"NATO membership is good for Montenegro, it is good for Europe and it's good for the whole alliance."
Igor Luksic, Montenegro's Foreign Minister said: "This invitation is a great encouragment for all the countries that aspire to join NATO. It is a particulary good news for the Western Balkans, because another Western Balkan country as part of NATO is a strong boost for security and stability of the entire region."
The small mountainous country offers a military of barely 2,000 active members, however alliance sources say it sends a message to Russia that it does not have a veto on NATO's eastwards expansion.
In response, Moscow has threatened to end joint projects with Montenegro.
Montenegrins themselves remain deeply divided over the merits of joining NATO, many still angry over the alliance's 1999 bombing of Serbia to halt the killing and expulsion of ethnic Albanians in Serbia's then southern province of Kosovo.
NATO planes also bombed Montenegro, then part of a rump Yugoslavia with Serbia, arguing its targets were part of the war machine.
Accession talks could begin early next year. Once they are concluded, all members will have to sign an accession protocol which will then have to ratified by their parliaments.