Prisoner swap frees Lebanese soldiers and ISIL leader's ex-wife
Comments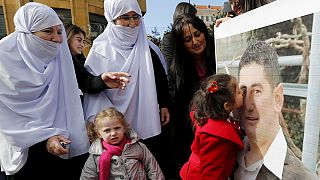 16 Lebanese soldiers and policemen held captive by Al Qaeda's Syrian wing, the Nusra Front, have been released.
The group was kidnapped during an attack on the border town of Arsal in August last year.
Nine soliders captured by Islamic State militants at the time are still believed to be held by the jihadists.
The Qatari-mediated deal also secured freedom for a jailed ex-wife of Islamic State leader Abu Bakr al-Baghdadi and 12 other Islamists in Lebanese jails.