Japan's whaling fleet sets sail despite UN condemnation
Comments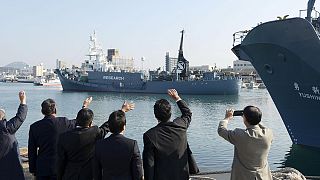 Japan's whaling fleet has set sail for the Antarctic on a three-month voyage, which the Japanese government claims is in the name of scientific research.

#Japan whaling fleet departs for hunt despite global outrage https://t.co/dJdssQ43r2pic.twitter.com/RiTrYB2Q9n

— The Straits Times (@STcom) December 1, 2015
The United Nations disagrees and says the ships are on a commercial hunt for minke whales and 333 at set to be slaughtered.
Japan defies international court ruling, sends fleet to kill Antarctic minke whales. https://t.co/1RFFvKhK4Opic.twitter.com/7qEJtJc2Ep

— CNN International (@cnni) December 1, 2015
Japan decided to resume whaling last week after a year long moratorium.
Satoshi Kunii is from Japan's Ministry of Agriculture Forestry and Fisheries:"According to reports, many are strongly opposed to the resumption of our research whaling programme and have said things that could be interpreted as vowing to obstruct our operations if they meet up with us at sea."

333. That is a mean number. Stop them in their tracks. #SaveTheWhaleshttps://t.co/OtbmaOKpgXpic.twitter.com/GC2RVdRJ34

— Captain Mike (@MikeFincken) November 30, 2015
Commercial whaling bans were imposed in 1986 and it is argued that Japan uses the scientific research banner as a way round the regulations.

Japan Whaling Fleet will sail to Antarctic Ocean Tuesday https://t.co/nLJjZaD5dApic.twitter.com/itANTVRymM

— Quad Finn (@QuadSeaShepherd) November 30, 2015
In 2014 the International Court of Justice ruled that Japan's whaling programme failed to qualify as scientific research and must stop.