Four arrested in Italy and Kosovo after 'threats to Pope'
Comments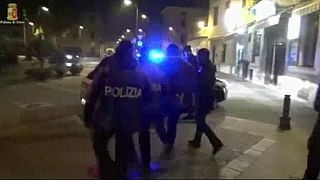 Four people have been arrested in Italy and Kosovo on suspicion of being part of a jihadist cell that spread Islamist propaganda and threatened Pope Francis.
In Italy's north, a Macedonian and two Kosovars were detained.
The fourth arrest was in Kosovo where authorities say the lure of Syria and Iraq has already enticed many.
"We estimate some 300 people from Kosovo have travelled there," Luan Keka of the Kosovo Police Anti-Terrorism Department told reporters.
"Among them, there are women and children. The rest are considered fighters. Right now, we believe the number present there is 80."
The man detained in Kosovo allegedly has combat experience abroad.
But while police say the suspects actively promoted the pro-jihadist cause online, they are not thought to have been involved in any specific plots.
"They were threatening the pope, celebrating the recent attacks in Paris and threatening the former US ambassador to Kosovo," said Carmine Esposito, a police chief in the northern Italian city of Brescia, where the investigation was based.
One of their messages is said to have read: "Remember there won't be another pope after this one. This is the last one."
The four are all suspected of 'condoning terrorism' and 'inciting racial hatred', Italian police said in a statement.
Italy has increased its controls on Islamist suspects in the wake of the November 13 attacks in Paris that killed 130 people.