Busy 2016 awaits Davis Cup champ Murray
Comments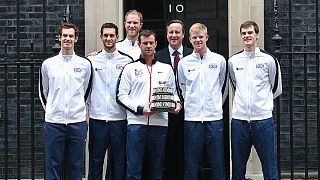 Great Britain's Davis Cup champions enjoyed a Downing Street reception from Prime Minister David Cameron on Tuesday in honour of their triumph over Belgium at the weekend.
Andy Murray led the team to their first Davis Cup title since 1936, winning both of his singles matches and the doubles tie with brother Jamie.
After the trip to Number Ten the team, which also includes Kyle Edmund, James Ward and captain Leon Smith, paid a visit to competitors of a wheelchair tennis tournament in London, where Murray admitted that the biggest challenge of his life will happen next year when wife Kim is due to give birth to their first child.
"I think becoming a dad will be the biggest obstacle, not obstacle but challenge and yes we've got a few weeks now to prepare and to get ready and yes it's going to be a big change to my life but I'm really looking forward and yes it's going to be a big change of priorities and yes it's going to be a big journey," said the 28-year-old world number two.
Murray has said he will rejoin the GB team in their title defence, which begins in March against Japan in Birmingham.
It will certainly be a busy 2016 for the Scot, who also be looking to defend his Olympic gold medal in Rio whilst adding to his two grand slams titles.