Obama pays tribute to Paris attacks victims
Comments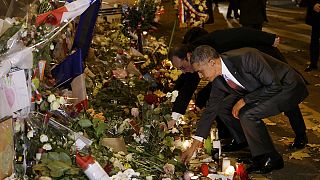 Barack Obama paid tribute to the Paris attack victims shortly after arriving in the city at midnight.
Accompanied by the French President Francois Hollande and Paris Mayor Anne Hidalgo, the US president made an unscheduled visit to the Bataclan concert hall where the deadliest attacks took place.
Obama placed a single rose among the flowers and candles at the makeshift memorial.
Obama was the first world leader to express solidarity with France after the attacks and described the country as one of America's oldest allies.