Happy ending for young couple caught up in Europe's migration crisis
Comments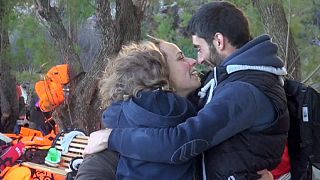 After an agonising wait, a young couple caught up in Europe's migration crisis have finally been reunited.
Syrian Samer Alkaled made it from Turkish shores to the Greek island of Lesbos on Monday, on his second attempt.
His girlfriend Zsuzsa Zsohar, a Hungarian translator with the 'Migration Aid' group, was waiting for him.
"The night before, he was trying already to come but the boat was sinking," she said.
"The police were controlling all the way. They took the life jackets, they took the boats."
Samer's next effort was more successful, however, and although he has lost all his belongings, he is now back with Zsuzsa who drove all the way from Hungary to Greece, with her young daughter.
"I don't have a plan," said Samer, a pharmacist from Aleppo, alongside his beaming girlfriend.
"I am here and I was on the other side and she was waiting for me. And I promised her I was going to get to see her on the other side and…we saw each other."
But others seeking safety and a new life in the West have not found their happy ending.
Just hours after striking a deal with the EU to stem migrant flows to Europe, Turkish authorities in western Canakkale province rounded up some 1,300 people they said were planning to sail to Greece.
In the largest operation of its kind in recent months, the migrants were sent to a repatriation centre.
At least four suspected people smugglers have also been detained.
#Turkish coast guard detains 1,300 #migrants on northwestern sea border https://t.co/CGoX9JDcScpic.twitter.com/G7fQ15fjg3

— Hurriyet Daily News (@HDNER) November 30, 2015
Turkey is home to 2.2 million or so Syrian refugees as well as thousands of refugees from Iraq and Afghanistan.
Turkish Prime Minister Ahmet Davutoglu on Sunday struck a deal with EU leaders to prevent migrants from travelling to Europe in return for 3 billion euros in cash, a deal on visas and renewed talks on joining the 28-nation bloc.