Jeju Grand Prix: Dong Han Gwak wins on home soil
Comments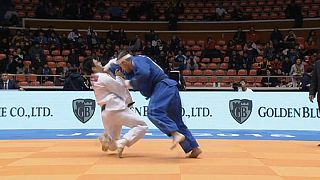 World champion Dong Han Gwak outclassed France's Axel Clerget in the under 90 kilo final to clinch his third consecutive Jeju Grand Prix on Saturday.
The 23-year-old dominated his opponent from the outset and opened the scoring with a yuko before adding a waza-ari to seal a convincing home triumph.
In the under 100 kilo final, reigning Tokyo Grand Slam winner Guham Cho handed Korea their second gold medal as he downed Cuba's Jose Armenteros in the showpiece match.
Cho looked in great shape and stormed past the 22-year-old after 60 seconds with a perfectly executed reverse-seoi-nage for ippon.
Eight-time world champion Teddy Riner produced four ippons in as many contests to take gold in the heavyweight category.
The Frenchman downed Roy Meyer of the Netherlands in the semis before taking his momentum into the final with an emphatic win over Abu Dhabi Grand Slam gold medallist Sung-Min Kim.
In the women's event, Japan's Sarah Asahina also won all of her bouts by ippon including the final against European Games bronze medallist Belkis Zehra Kaya of Turkey.
The 19-year-old scored a yuko from a harai-makikomi and held down her opponent with a kuzure-kesa-gatame for 20 seconds en route to a maiden Grand Prix title.
The bronze medals were won by Ukraine's Iryna Kindzerska and Minjeong Kim.