US: man arrested after jumping White House fence
Comments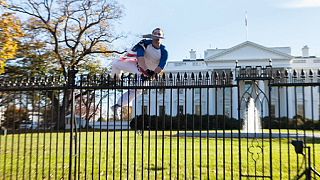 The White House in Washington has been in lockdown, after a man jumped the fence. He was quickly caught and now faces criminal charges.
The Thanksgiving day incident came amid heightened security concerns in the wake of the deadly Paris attacks.
President Barack Obama was in Washington to celebrate the US holiday, according to his public schedule.
Thursday's incident follows recent steps by the Secret Service to improve security at the White House following a string of other breaches. Some of the measures included changes to the fence, aimed at making it harder for people to jump over.