Rio's Olympic whitewater slalom course put through its paces
Comments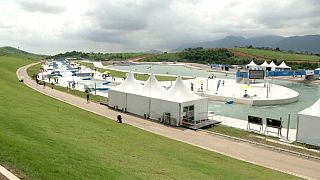 The test events for next year's Rio Olympics are coming thick and fast now.
After sailing, badminton and field hockey, the latest venue to be put through its paces was the Whitewater Stadium in the Deodoro Olympic park, which was officially opened this week.
Brazil's Pan American Games kayak champion, Ana Satila, was full of praise for the Olympic canoe slalom course.
She said: "It is all marvelous, incredible, it is a unique course. Out of all those I have kayaked on before it is my favourite, and I want to congratulate the organisers, I am very impressed. I was in London and I can say that it is all very good, the Brazilians are doing everything to represent our country, and for us to paddle the best we can."
Throughout the four-day test event, 250 athletes from 40 countries will compete in canoeing and kayaking.
Following the test, the venue will be opened as a public leisure centre for locals to use in the build up to the first Olympic Games to be held on South American soil.