Hungary terror suspects are just WWII hobbyists, says court
Comments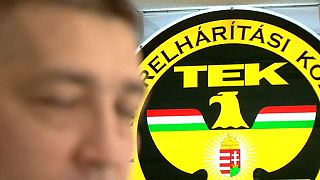 A court in Hungary has said there is no evidence to suggest a young World War II hobbyist has any links to international terrorism.
The head of Hungary's counter-terrorism TEK police unit said it found a bomb-making factory in his home which reportedly contained tools to dismantle explosive devices and chemicals.
The court refused the prosecutor's application to remand the youth in custody saying he had no criminal record and "lives with his mother and stepfather."
The man, identified as Roland S, reportedly used a metal detector to find items buried in a forest including grenades, shells, bullets and a sack filled with gunpowder.
The court heard he had tried to take them home, but his car was stopped by police.
He and three friends are still under investigation for unlicensed possession of equipment capable of making explosives.
Speaking to euronews, Zsolt Molnár, president of the national security committee and an opposition politician, accused the Hungarian government of spreading fear about terrorism and migration. He said while the incident needs to be taken seriously, scaremongering is a step too far.
Our correspondent in Budapest sent this report…
"Social media sites are full of jokes poking fun at the Counter Terrorism Center. Others say that the truth may lie somewhere between the prosecutor and the court."