Flagmakers rush to meet demand as France prepares public show for Paris victims
Comments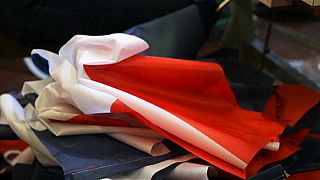 Workers in flag-makers up and down France are making tens of thousands of stitches in time for Friday's great display of national pride.
I think we should fly our flags all the time
The president has called on all republicans to fly the flag in their homes and workplaces this Friday in honour of the victims of the Paris attacks.
Demand has been huge, and production has struggled to match demand.
"We get calls all the time, several calls a minute and at the same time we have to produce the flags, welcome clients, we have to do everything, be versatile! It's a bit tiring especially because we were up all night working and we only slept an hour," said an employee at Paris Drapeaux.
A commemoration ceremony is being held at Les Invalides monument for officials and will be attended by many people, including President Hollande and former President Nicolas Sarkozy.
"I came here to buy a flag so I could fly one at home, as the tradition is now back in fashion with the threat of terrorism. It forces us to present a united front and to affirm our nationality and pride," said one man.
He like many others was struggling to find any on sale such was the last-minute rush.
"I'll have one up at home from tonight and I think we should fly our flags all the time. It is important to feel French," said a Paris shop owner.