Russia envoy to EU sees 'negative impact' on Turkey ties
Comments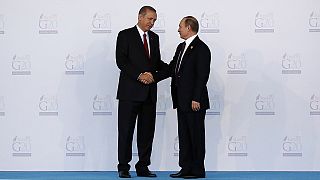 Russia and Turkey have been trading blows over who is to blame for the downing of a Russian jet close to the Turkish-Syrian border.
Euronews spokes to the Russian ambassador to the European Union, Mr. Vladimir Chizhov, about the incident.
Andrei Beketov, euronews: Turkey is accusing Russia of violating its airspace of provocative behaviour. What responsibility is Russia prepared to admit?
Vladimir Chizhov, the Russian ambassador to the EU: It's not a case of violation of the Turkish airspace. Either voluntary or involuntary. At speeds with which such planes fly, any entry and exit into the airspace of a neighbouring country would have been just seconds. A much shorter time than it takes for the Turkish fighters in this case to be scrambled, take off and shoot down the Russian plane, which is a clear indication that this whole incident was pre planned.
Euronews: Can Turkey now expect some retaliation from Russia or some strong measures in response to this incident?
Chizhov. Well, of course, on the military side, we are not going to declare war on Turkey. BUt further operations of the Russian air force in Syria will be more heavily protected.
Euronews: Russia has already recommended tourists to refrain from going to Turkey?
Chizhov: It's a warning guided primarily by the concerns of Russian citizens. Of course, this incident, this provocative action, by the Turkish side will certainly impact in a negative way our bilateral relations.
Euronews: Russia has started losing human lives since its intervention in Syria more than a month ago. Any regrets about striking first?
Chizhov: Well, it's a war going on. Unfortunately People – particularly military personnel – get killed. It's a tragic event, of course. We lost one pilot. One of the two crew members of the SU-24 bomber. And also one marine.
Euronews: And earlier the passenger jet presumably by a bomb over Sinai. Wouldn't it be easier for Russia not to go to Syria?
Chizhov: That would have been, as we Russia say, the philosophy of an ostrich. Hiding its head inside the sand. Believing ostensibly that he wouldn't be hurt. Because the scourge of international terrorism is omnipresent and we all know for example that over 2000 Russian citizens are fighting in Syria on the side of ISIL and other terrorist groups. And the last thing that we want is for those people to come back to Russia. What we are doing there is an attempt to preempt the spread of ISIL towards Russia and its allies and neighbours.
Turkey military releases audio of "warnings' to downed Russian plane