Rio Olympics: hockey and badminton venues under the spotlight
Comments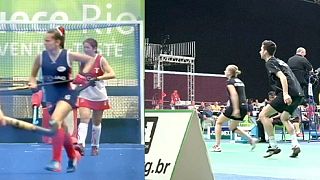 Two of Rio's Olympic venues are currently under the spotlight as test events for field hockey and badminton began this week.
Seven nations, including next year's hosts, are taking part in the five-day hockey competition at the Deodoro Olympic Park.
The venue has, so far, got a massive thumbs up from the players.
Chile's goalkeeper Adrian Henriquez said: "The pitch is really spectacular. The grass is well placed and we were able to play hockey very well here. This pitch is world-class and it will be perfect for the Olympic Games."
Men's field hockey has been a permanent feature at the Olympics since 1928, while women's hockey entered the Olympic fold in 1980.
Elsewhere ninety shuttlers, including five-time world and two-time Olympic champion Lin Dan, gathered at the Riocentro for the Brazil Open, which is also acting as a test event.
Also among those participating is Canada's Olympic hopeful Alex Bruce.
On the Riocentro the 25-year-old said: "It's pretty good. It feels a little bit slow but, overall, I like the courts and visibility is pretty good."
The hockey and badminton competitions are two of 44 test events ahead of the Rio Olympics, which will be the first Games to be held in South America.