Pope Francis heads to Africa with a message of religious tolerance
Comments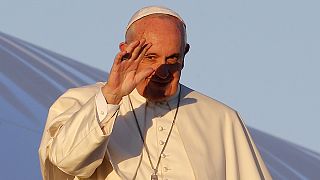 Pope Francis is on his way to Africa for his first papal visit to the continent.

First trip in Africa for Pope Francis has begun! AZ4000 has taken off from Fiumicino #firsttimeinafrica@pontifexpic.twitter.com/YROT3sBjmC

— Alitalia (@Alitalia) November 25, 2015
He will touch down in Kenya and take in Uganda and the Central African Republic in a six-day visit.
Pope Francis, seen as a champion of the poor, is expected to preach a message of religious tolerance and peaceful coexistence.

"A More Conservative Catholic Church Awaits Pope Francis in Africa" by JEFFREY GETTLEMAN a… https://t.co/iCgOvPV9FEpic.twitter.com/AKAxXMXBZQ

— JasonScottTimm (@JasonTheInfamus) November 25, 2015
The region has been blighted by an upsurge of extremism and sectarian violence in recent times.
Kenya has seen its fair share of Islamist violence, two years ago the Somali al-Shabab group attacked the Westgate shopping mall murdering 67.
The pope's visit to Bangui, the capital of the Central African Republic, is a major security headache as violence between Muslim Seleka rebels and Christian anti-balaka militia continues to claim lives.

Rival groups kill six hostages in tit-for-tat CAR violence https://t.co/bImoU5Dk5Mpic.twitter.com/XFWMkYB76m

— FRANCE 24 (@FRANCE24) October 27, 2015
Act of faith: the priest who puts his life on the line to save Muslims in #CAR#CARcrisishttp://t.co/RyJNqAUSuXpic.twitter.com/DGuxyl5QvX

— Thom Sayers (@ThomSayers) December 13, 2014