Penn State begin historic baseball tour in Cuba
Comments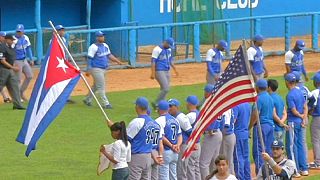 To help mark the thaw in relations between Cuba and the United States the Pennsylvania State University baseball team embarked on a four-game exhibition against teams from Cuba's national league.
Moments after Cuba's national anthem was played ''The Star-Spangled Banner'' blared through the stands in a rare occurrence on the island.
Up first for Penn State was one of Cuban baseball's finest clubs, the Industriales.
After a 24 hour delay due to heavy rain – the game finally went ahead under the occasional shower at Havana's Estadio Latinoamerica.
In what turned out to be a tight encounter the professional home side celebrated a 2-1 win against a surprisingly competitive Nittany Lions side, who will look forward to a rematch before moving on to play games in Pinar del Rio and Matanzas to wrap up the historic tour.