Bus bomber kills presidential guards in Tunisian capital
Comments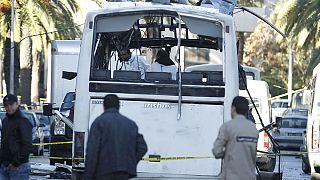 A suspected suicide bomb attack on a bus carrying Tunisia's presidential guard has left 13 people dead.

EYE ON AFRICA - At least 12 presidential guards killed in bomb attack in Tunis https://t.co/qG5s4gQ0Qypic.twitter.com/RcUjCLsY7c

— FRANCE 24 English (@France24_en) November 24, 2015
The blast happened at a bus stop where the presidential guard picks up and drops off staff in the capital Tunis.

#Terrorism strikes heart of #Tunisia capital: At least 12 people dead in bomb attack https://t.co/0xBffhBNNE#Tunispic.twitter.com/Yl8otZVBuG

— The Arab Weekly (@ArabWeekly) November 25, 2015
Twelve of the dead have been identified, the thirteenth is thought to be the bomber.
President Essebsi visited the injured in hospital.
No group has claimed responsibility for the carnage.
Tunisia suffered a deadly attack to its key tourist industry in June when 38 people were shot dead.
A suicide attack on the the security services in the heart of the capital has sent shivers through Tunis as one woman explained: "What is happening across the world is more than painful, it is devastating. We must all help each other. All the countries must be truly united to fight terrorism."
Tunisia has been working closely with US and UK security services as its emerged that 3,000 Tunisian nationals have joined jihadi groups fighting in Iraq and Syria.