Brussels clampdown to last another week but schools to reopen on Wednesday
Comments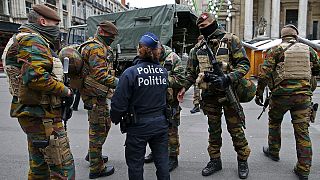 Brussels remains on high alert this Tuesday after the Belgian Prime Minister Charles Michel cited a "serious and imminent" threat that justifies keeping the highest alert level operational for at least another week.
"It is really hard to live in this situation. I've never seen anything like this in my entire 56 years," said one man.
"I'm just telling myself that terrorists got what they wanted. They wanted us to panic all the time, and that's what is happening. It seems to me that they have won," said another.
Public transport remains severely curtailed, although this will progressively come back on service from Wednesday, which should bring some life back onto the eerily quiet streets of Europe's administrative capital.
Schools will also reopen on Wednesday, bringing some relief to working parents, and restoring some normality after four days of extraordinary scenes, with heavily armed soliders patrolling and armoured cars cruising the streets.