Britain to boost defence spending and create rapid strike force
Comments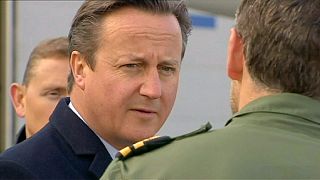 David Cameron has announced a massive boost to Britain's defence budget in the wake of the Paris attacks.
Speaking after visiting the French capital, the British prime minister said he wants to increase spending by some 14 billion euros and create a 10,000 strong rapid reaction force ready to deploy across the world.
The plans are outlined in the government's five-year strategic and defence spending review.
In a speech to parliament Cameron said: "As the murders on the streets of Paris remind us so starkly, ISIL is not some remote problem thousands of miles away, it is a direct threat to our security at home and abroad."
Detailing a list of new purchases, more financing for intelligence agencies and the targeting of aid budgets to support failed states, he added: "Not one of these capabilites is an optional extra."
"We will invest more than a 178 bln pounds in buying and maintaining equipment over the next decade, including doubling our investment in equipment to support our special forces, and we will also increase the size of our deployable armed forces."
"The conflict stability and security fund will grow to over 1.3 bln pounds a year by the end of this parliament. And we will also create a new 1.3 bln pound prosperity fund to drive forward our aim of promoting global prosperity and good governance," said Cameron.
The extra spending also includes new F-35 fighter jets and maritime patrol aircraft.
But the review also requires the defence ministry to cut civilian staff by 30 percent, some 41,000 jobs, to help keep the government's budget in check.
On Thursday, Cameron will present his case to parliament for extending air strikes against IS targets from Iraq to Syria.