Daniel-Andre Tande clinches maiden World Cup win in Germany
Comments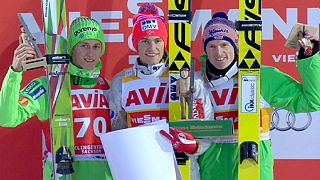 Norway's Daniel-Andre Tande produced a stunning performance to clinch the first individual ski jumping event of the new World Cup season in Klingenthal on Sunday.
The 21-year-old cleared 142 meters with his first jump and 140.5 with his second to earn 268.7 points, enough to stun the field, en route to a maiden World Cup triumph.
Slovenia's Peter Prevc, who had to settle for second place in the overall standings last season, was unable to trouble the leader as he finished 3.1 points adrift with leaps of 139 and 138 meters.
World champion Severin Freund of Germany was third ahead of compatriot Richard Freitag and Noriaki Kasai of Japan.
The second leg of the season will take place next week in Ruka, Finland, with two individual events on Friday and Saturday.