Funeral in Egypt of victim of Paris attacks
Comments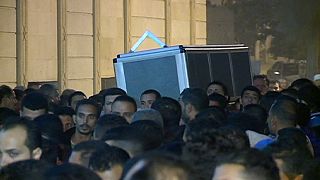 The funeral takes place in Egypt of one of the victims of last week's attacks in Paris.
28-year-old Saleh Al-Jabali was among the dozens of people who lost their lives.
Hundreds of friends and relatives gathered to pay their respects in his home town of Abu Naseer in the province of Alkharbiya.
A friend told Euronews they went to France to find work. "We specifically chose Paris," he said, "I saw him regularly there. He was a very good person and had nothing to do with any of the trouble."
"The person who did this is not a human being," said the Imam of the Mosque. "This is a terrorist attack against innocent people, they are not guilty of anything. Shootings and bombings have nothing to do with any religion. These terrorists will pay for what they have done in the next life, as the Islamic religion says."
The atmosphere here since the killing of this young Egyptian in the Paris attacks is one of anger, sadness and recrimination says Euronews correspondent Mohammed Shaikhibrahim. The bloody attacks which made no distinction between religions.