FIFA ethics panel calls for sanctions against Blatter and Platini
Comments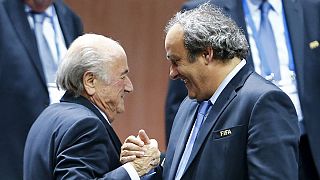 FIFA ethics investigators have recommended that sanctions be brought against president Sepp Blatter and vice-president Michel Platini.
"The investigatory chamber of the independent Ethics Committee has submitted its final reports containing requests for sanctions against Joseph (Sepp) Blatter and Michel Platini to the adjudicatory chamber chaired by Hans-Joachim Eckert," the ethics panel said in a statement.
The panel did not elaborate on why it was recommending sanctions, or what those sanctions should be.
Blatter and Platini were provisionally suspended for 90 days in early October.
Both deny wrongdoing.
Blatter has been FIFA president since 1998.
Platini, who has been head of European football's governing body UEFA since 2007, had plans to stand to succeed him.