Balkan border controls cause knock-on effect
Comments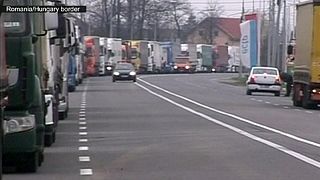 The knock-on effect of tighter border controls in the Balkans is starting to show.
In Romania a seven-kilometre traffic jam has resulted in hours of delays for travellers attempting to cross the frontier into Hungary.
Border police say the measures, introduced one week after the Paris attacks, are in response to "possible threats."
Authorities believe at least one of the Paris suicide bombers travelled a known migrant route into Europe, via Greece.
From there, those making the journey move north into the former Yugoslav Republic of Macedonia, but it is now only allowing entry to migrants from Iraq, Syria and Afghanistan.
Thousands from countries not recognised as war zones are stranded at the border and tempers are starting to fray. On Saturday morning on the Greek side of the frontier, riot police pushed back huge crowds attempting to cross over and continue north.
One of those stuck at the border is Samrat, from Nepal:
"I don't want to go back to my country, I have no house where I should go, in Nepal. I want to go to Europe, I want to change my future, I want to make my life this way."